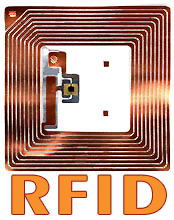 Radio Frequency Identification (RFID)
Libraries, schools, the government, and private sector businesses are adopting radio frequency identification tags, or RFIDs — a technology that can be used to pinpoint the physical location of whatever item the tags are embedded in. While RFIDs are a convenient way to track items, they are also a convenient way to do something far less benign: track people and their activities through their belongings. EFF is working to prevent the embrace of this technology from eroding privacy and freedom.
Identity Information Protection Act
The Identity Information Protection Act is a California bill that seeks to protect your privacy from covert scanning. The bill has been re-introduced as SB 30 [PDF] (previously SB 768) -- read SB 30 Fact Sheet, SB 30 Myths & Facts for more.

RFID in Identification Cards
Take Action:
Information
RFID in Libraries and Schools
Previous Action Alerts
Information
RFID in Consumer Products
Other Resources