Program Objective:
The goal of the Evidence Extraction and Link Discovery (EELD) program is development of technologies and tools for automated discovery, extraction and linking of sparse evidence contained in large amounts of classified and unclassified data sources. EELD is developing detection capabilities to extract relevant data and relationships about people, organizations, and activities from message traffic and open source data. It will link items relating potential terrorist groups or scenarios, and learn patterns of different groups or scenarios to identify new organizations or emerging threats.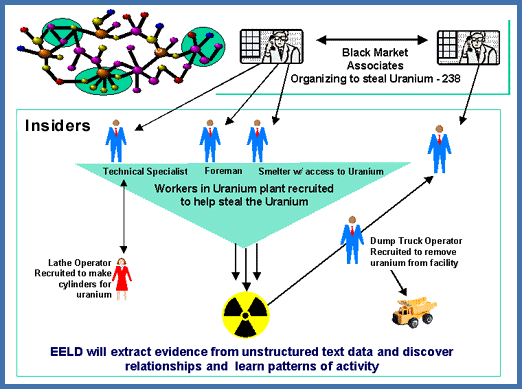 Program Strategy:
EELD's initial activities demonstrated the feasibility of extracting relationships from text, and validated the detectability of patterns representing terrorist groups and scenarios. EELD has also developed two promising techniques for learning patterns of activity, developed functional system concepts to guide technology developments, selected techniques to develop for evidence extraction, link discovery and pattern learning, identified scenarios to validate the detectability of patterns in unclassified and classified data, and initiated the collection and characterization of documents for technology evaluations.
Planned Accomplishments:
FY 02: EELD will develop and demonstrate technology to extract relationships, and detect and learn single-link type patterns.
FY 03: EELD will:

extend its capabilities to the extraction of data from multiple sources (e.g., text messages and web pages), with an ability to adapt rapidly to new threat domains;
develop the ability to detect instances of patterns comprising multiple link types (e.g., financial transactions, communications, travel, etc.); and,
will develop the ability to learn patterns comprised of multiple types of entities (e.g., persons, organizations, etc.) and multiple link types.
Related Links:
Ted Senator, "Evidence Extraction and Link Discovery Program" at DARPATech 2002
EFF Mirror: Ted Senator, "Evidence Extraction and Link Discovery Program" at DARPATech 2002